Reviews
Truly Satisfied Customers
Both my wife & I are extremely happy with the finished installation which I managed to do over the last few days. We think it looks great and sets off our new patio.
Thanks for providing a high quality product and for a professional service.

Truly satisfied customers.
Andrew Prentice - UK
Seamless
Just a note to say thank you for the seamless delivery of mirrors.
From ordering with Chris, Natasha et al to delivery by Alex…on time 11.46 - 11.58…all great…thank you.

All I've got to do - after buying suction grips…is not break them whilst installing them.

Certainly keep M2M in mind for any of our interior works…

Thank you.
Pete and Elaine Robinson - UK
Mirrors are Fab!
Mirrors are fab! The sales team and Fragilistics were very helpful with ensuring the mirrors were delivered at a convenient time and gave me regular updates. I would fully recommend the product and service!
I've installed the mirrors in one of my spare bedrooms which I've turned into a home dance studio; photo attached!

Again, I'm so happy with them. Thank you!
Roxy Fagy - UK
Excellent!
The service I received from made2measure was excellent. Chris H was very helpful and questioned the incorrect measurements I provided with my order. Delivery was on time and the glass balustrade looks amazing now fitted. I would definitely recommend made2measure
Trisha Allen - Edinburgh
1st Class
I just wanted to say that I've just received 1st class support and advice from Mark who delivered my mirrors. He and I walked them to where I needed them on the ground floor of my property. He took time to explain some hints and tips for putting up the 'J' tracks and where best to place the suction cups for lifting my mirrors into place. All very much appreciated.
Murray - UK
Many thanks
Afternoon made to measure
Just have to say many thanks ?? for sorting my porthole glass out
It has been a nightmare trying to source this glass and size .
It's a pleasure to deal with a company that actually does what it says , efficient ,good communication and service
Many thx again from a very very happy customer will definitely be in touch again when I replace the next 12 port hole glazing.
Please pass on this messay to your colleagues
A very happy Francis
F Hobden - Tollesbury
Satin Frosted Glass
Just a note from me to say thanks again for your help with the Satin Frosted Glass. All pieces have now been installed. I've attached some pictures.
Rhodri - GSK
Tinted Grey Glass Balustrade Post with No Handrail
Thought it was about time I sent you photos of the finished project, it took longer than I thought what with the poor weather we had during the summer but we got there in the end, I'd like to thank everyone that was involved with my order, yourself, Ali,Tash and Damon. Both my wife and I were very pleased with the quality and finish of the balustrade and visitors that have been to the house have been very complementary about it and most impressed, We would have no hesitation in recommending your company to anyone considering placing an order with you in the future, once again thank you very much.
Steve and Sue Jones - UK
I would not hesitate to recommend you to others!
Just wanted to provide feedback for you.
Mirrors look fantastic and I have attached a picture for you. Thank you for sorting out the issue with the undersized mirror and for providing a fast replacement, we couldn't have asked for better service.

I would not hesitate to recommend you to others!
Mark H - UK
Small things mean a lot
A few of weeks ago my wife dropped a perfume bottle onto one of the mirrored bedroom units and cracked it. To say she was upset is something of an understatement, made worse by being in lock down for over a month. Not wanting to build up her hopes, I went on-line without her knowing, found your site and placed an order for a replacement panel.
The transaction was simple and when it arrived, my wife was very surprised, After removing the broken panel, it was simple to fit and now the unit now looks like new again. My wife was delighted and amazed you could supply a replacement when most companies are closed.
Can you please pass on my thanks to your staff (all of them) and tell them their efforts in these strange times are very much appreciated.
Sometimes small things mean a lot.
Thank you
Trevor
Trevor Mathews - UK
Great Experience
We've just had our mirrors delivered by Glen. I'd like to say what a great experience it was. He was very polite and talked us through how to store etc very clearly. At a time where COVID is making things like this more difficult, Glen took any of the stress out of the situation. The mirrors also look perfect. Looking forward to seeing them installed.
Nicola Brown - UK
Speedy service quality product
Hi there,
I recently placed an order with you for a mirrored splashback. I just wanted to say what a great job you had done - speedy service, great communication, quality product and fantastic delivery.

Anyhow, the splashback has been installed and it finishes the kitchen off perfectly, so we're delighted with it. Thank you so much.

Warmest wishes to your team for a very happy New Year.
Angie Howarth - Warminster
Thanks
Just wanted to say thanks for the supply and delivery of our mirrors. Lovely quality and they look amazing. See picture in our studio below.
Darren Morgan - Celtic Leisure
First rate
Hi. Thank you for the service provided on this order.
Very efficient service and easy to use.
I have just installed the units and they are amazing.
The driver yesterday was first rate. Courteous, friendly and very helpful. A good public face for your company.
I do think the delivery price was a little high but overall a wonderful service.
Neil - UK
Perfect
My mirrors are perfect, I was dubious at first as the plan was to revamp and inspire some existing wardrobes. I did one side and was so impressed I ordered for the other side. (The only down side was by being cautious I had twice the delivery charges). I should never had doubted what a resounding success it would be. Many thanks to all the staff, will definitely order again in the future. I highly recommend your company, from a very easy to use website to clear instructions and delivery.
Sharon - UK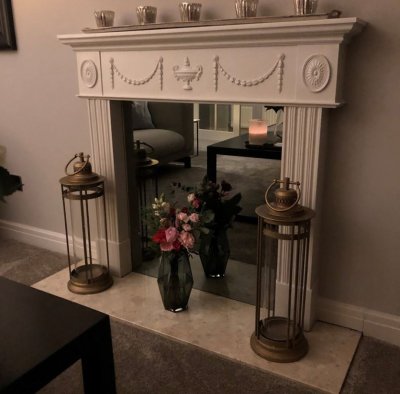 Perfect and Great Quality
Product delivered a few weeks back (4mm grey tinted mirror) by the very friendly and helpful Fragilistics driver. Product was perfect and great quality. Installed within a fireplace surround - pic attached and I am thrilled with it.
Claudio - Glasgow
Amazing Service
Thank you for your amazing service, both on and after ordering. The delivery service was excellent and the quality of the product equally high. But most importantly it was your after sales care that really impressed me. Five stars all round,
Robert - Suffolk
Very Pleased
I'm very pleased with my recent order, the mirrors look fantastic in our Dance Studio. The order process was simple, and the delivery time was quicker than expected. Communication on the progress of my order was very good as well. The mirrors are great quality, and look very professional. It is definitely best to use the J-channels for fitting, they give a much more professional appearance. Overall I thought the cost of my order was very reasonable, and I would whole-hardheartedly recommend this company.
Jeremy Jones
Service was excellent
Service was excellent, mirrors were perfect. Easy to put up in home gym and they look great.
Nick Leigh - London
Easy to fit
Many thanks for the ballastrades all now fitted and look excellent, very easy to fit, simple design but looks stunning
Geoff Haughin
Excellent Service
Excellent service from ordering to delivery. I needed some angled glass for stairs and was worried about accurately measuring up, but your simple on line ordering process made it easy resulting in a perfect fit. I also like the way you can instantly price up your requirements so you know exactly what your project will cost. Thank you.
Les Morgan
Excellent
Your website is excellent as it was easy to use , clear and accurate.
The sales man Kris was very helpful and made me feel at ease with my purchase.
Even the delivery service was great, I changed the delivery address at the last minute and they were really accomadating
This was the first time I have bought glass for a project and i was a little worried about doing it in this way , however there was no need to worry as i was clearly dealing with professionals. should the need arise again I will be calling you . This glass has made my decking area look superb .
Gary
Many thanks
Many thanks, I am readlly happy with my order. I am also very grateful for replacing one of the mirrors which came slightly scratched. The quality of the stuff is really good. Keep up the good work.
Saba - UK
Review
Mirror arrived and it blends in perfectly with the wardrobes and furniture. Thank you. Great job.
P. Coleman
By far the cheapest
Hello I recently bought 2 mirrors off of yourself, I'm really pleased with both the price and product, you were by far the cheapest quote from many other glass companies and the delivery was brilliant, the mirrors were used on a bespoke wardrobe install I have just completed for a client of mine, here's a couple of pictures of the finished product.
S Johnson
Review
We were very pleased with Made 2 Measure Mirrors professionalism and how they dealt with all our needs and requirements from the outset. All aspects of the service from our initial enquiry, brief for the project, amendments to order and final delivery to site have been first class. They are a very friendly and professional company and we would have no hesitation in recommending them.
Warren Crowe - Vanguard Contracts Ltd
Review
Just a quick note to say a big thank you to all of you at made2measure for our glass splashback, it's perfect. I will definately be recommending you to everybody!! Thanks once again. Kind regards.
Anna
Easy, Uncomplicated and Fast
I would like to say that the whole experience in buying from you guys was easy, uncomplicated and very fast. The Gym mirrors are great and very easy to install, delivery driver was very good, obviously knew how to handle the glass carefully and was very helpful, I wouldn't hesitate in recommending yourselves to others.
D Stubbings - Solarvision
Excellent Service
I bought two pieces of glass as shelf tops. They were 'low ion' glass which is crystal clear. They were both cut extremely well and fitted perfectly. The communications with the vendor were fantastic - very very helpful. The delivery cost was a little pricey for small items, although glass clearly needs to be sent safely. Despite that, I would definitely use again.
Nigel Jones - N/A
Mirror cut to size
Extremely pleased with the mirror cut to size for my bathroom renovation project. the service, delivery and overall quality of the product was superb. Definitely recommend to all my friends
John - Manchester
Brilliant!
Fantastic from start to finish, delivered no probs, Installed them on my own no probs at all. Used 3 for my kids dance studio. They are made up!
Lee - Wigan
Review
Excellent customer service, unique splashback looks brilliant!
Tracy
Review
Just wanted to say thank you so much for a great service and the splashback is beyond perfect. Can't wait to get it in place! Thanks again to you and the team.
Tracey
Review
The mirrors are fab, they arrived on the day and time arranged and the quality is really good. They are the finishing touch to our performing arts academy.
Thanks again for the easy purchase and delivery of the of mirrors.
Andrew and Karen - Wansbeck Performing Arts Academy
Review
We are absolutely thrilled with the acrylic mirrors, they look so effective! They were so easy to put up even I could do it! Lots of friends have asked us where we got them from so we have given your details. Thanks for such a quick and speedy service too.
Kerry
Review
I just want to thank Made 2 Measure Mirrors for your outstanding service I received when I placed my order for studio mirrors with you. I was very pleased with your efforts to meet all my individual requirements, in both a professional and friendly manner. You made me feel that whatever I needed, you were willingly to go that extra mile to ensure that my order was dispatched efficiently, and your communication to me as your customer was spot on- Thank you!
Su Matthews